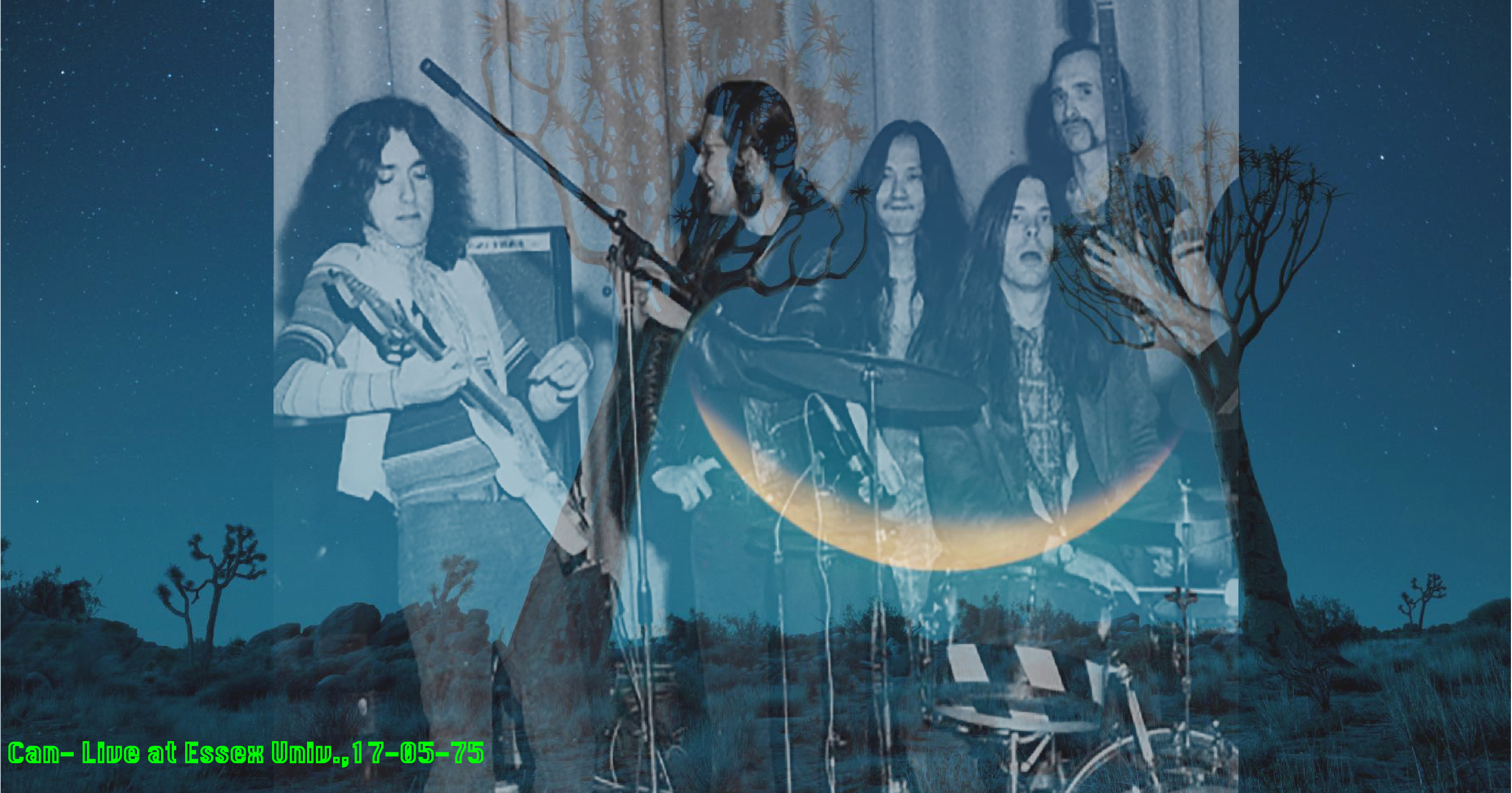 Can-Live at Essex Univ., 17-05-75
1. Chain Reaction 0:00
2. Bel Air 23:03
3. Dizzy Dizzy 41:19
4. Mother Sky 52:54
5. One More Night 1:05:48
This is a Can classic´s live stoned jam,from the bootleg album "Future Days and Past Nights".
Source recorded from the mixing desk.
Can-Live at Essex Univ.,17-05-75 in WAV 16 bits
Can – Soundtracks (70) FR.Reissue(80) Celluloid WAV 16-44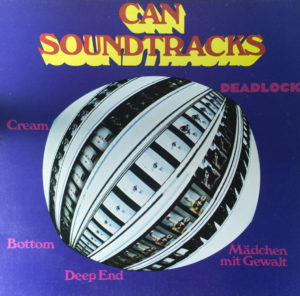 Tracklist
A1 Deadlock 3:25
A2 Tango Whiskyman 4:02
A3 Deadlock 1:40
A4 Don't Turn The Light On,Leave Me Alone 3:42
A5 Soul Desert 3:46
B1 Mother Sky 14:30
B2 She Brings The Rain 4:04
Credits
Arranged By, Producer by The Can
Bass – Holger Czukay
Design – Albert Leuthenmayr
Organ -Irmin Schmidt
Percussion, Flute – Jaki Liebezeit
Vocals – Damo Suzuki (tracks: A1, A2, A4, B1)
Michael Karoli-guitar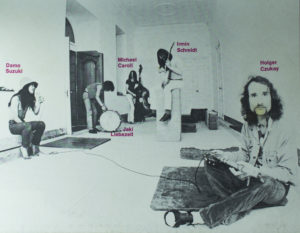 Notes
A selection of title songs and soundtracks from five movies for which Can wrote the music:
Tracks A1 to A3 from the movie "Deadlock" by Roland Klick (recorded August 1970).
Track A4 from the movie "Cream" by Leonidas Capitanos (recorded June 1970).
Track A5 from the movie "Medchen mit Gewalt" by Roger Fritz (recorded December 1969).
Track B1 from the movie "Deep End" by Jercy Skolimovsky (recorded July 1970).Track B2 from the movie "Bottom" by Thomas Schamoni (recorded November 1969).Recorded at Inner Space Studios.
"Mother sky" song,is a 14 minutes lisergic trip.It´s hipnotic and devastation.The song starts with Jaki Liebezeit perfect hit the drums,them Czukay on bass and Karoli reaching the skyes on guitar solo´s,
Damo sings like a shaman and Irmin on Keyboards,are a whole rhythm than insinuates you as fear and pleasure at the same time.
This song is eternal and atemporal masterpiece,after 50 years,is still on.
Can´s music is a lisergic trip.Into Avant-garde genre,as Schmidt and Czukay when formed
Can band,thought to mix avant-garde with rock music.
Neu,Can on Kraut style,were the pionering of Space rock and New Wave bands,like Happy Mondays,The Fall,Jesus and Mary Chain,later Sonic Youth or post-rock like Loop or the new progressive like The Mars Volta.
A vinyl Rip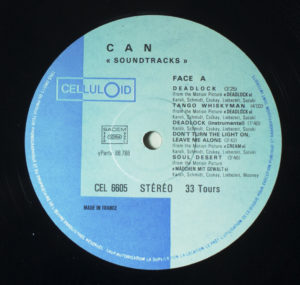 Can – "Soundtracks"(70)FR.Reissue(80)Celluloid WAV 16-44 in WAV 16 bits (Face A)
Can – "Soundtracks"(70)FR.Reissue(80)Celluloid WAV 16-44 in WAV 16 bits (Face B)