The following article is about the early days of the Bevis Frond.,wrote by Nick himself on his own fanzine Ptolemaic Terrascope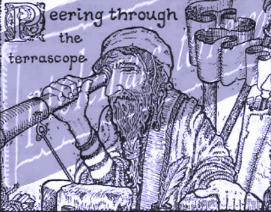 The Bevis Frond Museum 1968-1969
I started to play the guitar at seven,in 1967 I learn to play the guitar,listening Jimi and Eric.
I spend months at my bedroom learning "Fresh Cream","Are you Experienced?",with a second hand white guitar and a half dead Watkins Westminster amplifier,purchased by five pounds.
I saw this year a live concert of Stones and Yardbirds.The next think was to find a band.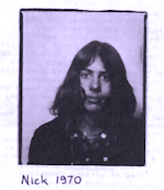 Bill O´Brian,was a really good drummer,and display his ability with a pretty expensive kit.
My mate Ray Flores could play the guitar,so I persuaded him to get a bass.
Them,I invited Steve Webber to play with us,he played organ for a extreme psychedelic band called the Geranium Pond who gigged at places like the UFO.
One day,coming home from school,I meet Julian Temple,later a film producer,and he suggested the Bevis Frond Museum name,for the band.
We have dispensed the idea of having a lead singer,and I was nominated the person to do the vocals.
Ray and I,purchased a 30 watts amplifier and speakers in Edwards road,so we started gigging at youth clubs and dancings,around NW London.
I was 15 years old and couldn´t drive,so we have to wear all the gear to the venues on public transport.
I remember rightly our set,include the following songs:Hey Joe,Sunshine of your love,Foxy Lady…
Very few places re-booked us,and it was clear that we weren´t going to play The Marquee,or the Roundhouse,or anywhere.
So the Bevis Frond Museum,was no more.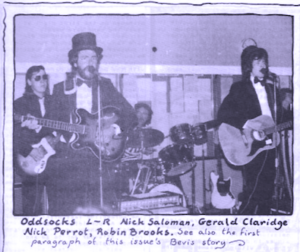 Oddsocks,Folk band
Nick leaves London,and went to live to Waymouth when he knows a girl friend.
A room mate Gerald Claridge,played in acoustic folk duo calls Oddsocks.
He promoted a gig headline by Mike Absalon.
I performed three acoustic numbers;"Flying High"(Country Joe & The Fish-Electric Music),
an own song,"A pearl in Hades",and ending with a strange version of "Johnny B. Goode".
Gerard asked me to play just for special occasions with Oddsocks band.
Oddsocks-Men of the moment"(75) lp Folk,country style.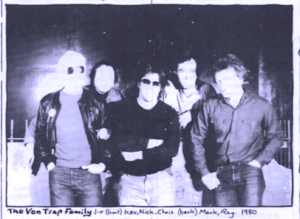 The Von Trap Family
In early 1979,we thought to get a gig,as we got decent songs and endthusiasm,but things don´t goes like it.
We handling our four songs demo and visited the main venues in London,and had a few support with promoters,and played in Rock Garden,Camdem town…
Also,we received several proposal to get a contract and record an EP,too.
In 1980,we formed Woronzow label,a Street name next to a street of St. Johnns Wood,were Kev,Mark and I had grown up.
A couple of useful demos were recorded,and the first single was edited in Woronzow,label.
Only,"No reflexes",was keep from the Von Trap days.
Gigs weren´t easy to find,and the band disbanded.
The Von Trap Family – Brand New Thrill W001(1980)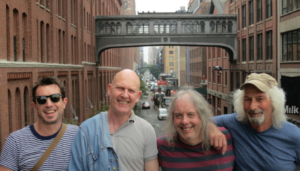 The Bevis Frond
All beginnings are difficult,home recordings in a four track studio,own label,and even a fanzine.
Nick Saloman started to made his albums on their own Woronzow label…"I will never put money before music".
"It depends on the continous support to mantein the label on".
"It seems the relation with major European distributors was broken,due to some amount owed"."Also,some distributors didn´t paid the records by cash on delivery".
Bevis Frond have produced over the last decades,many records likely to come to perfection in "rock" music.
Nick Saloman is a "Sargeant Pepper",and every album he realise,could be better done than previous.
He had done "Miasma", to "Inner Masrshland",taking to "In through the looking glass",Acid Jam","The aunty Winnie album","Any gas faster",on early 90´s.
With that psychedelic guitar feedback,and great lyrics-songs,some of the words,are pure poetry.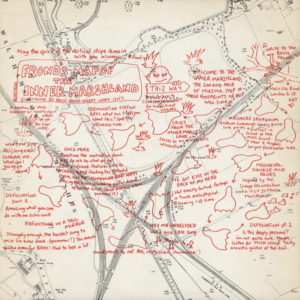 "Inner Marshland"(87)US.Re.Reckless(88),WAV 24-96
"Defoliation part I-II"
This is the most lysergic album of all BF releases.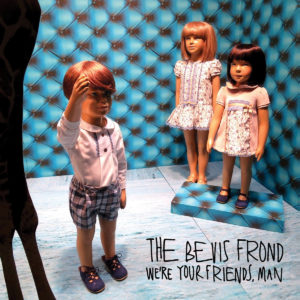 "We're Your Friends,Man"(2018)UK.Orig.2lps Fire rec.WAV 24-96
"You´re on your own"
Last BF album,a lysergic Free-Jam at the end song.



Bevis Frond-The 17th Dream of Dr Sardonicus Festival,Live at Cellar Bar,Cardigan,Walles,Augost 9th 2019.
An amazing live concert with an extended long version of "Superseded",and "Reflections in a Tall mirror"(from "Inner Marshland",lp).
Last track,is a great acoustic guitar´s song.