Wah Wah records is a record shop located at The Raval district,in Barcelona,and opened doors last 1992 year.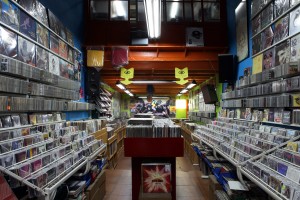 During the 90 s we saw the birth of a new era of digital music were CD format, was the replace of vinyl sales. When a disc get on the market, the majority of sales were on CD, while the vinyl productions were made in a very limited quantities,only.
Wah Wah records, choose music on vinyl from the start, although the multinational labels in rock music ,took the CD format because of their low manufacturing cost.
Like all the comerces,record stores saw crises sales,also.
On the 2000s,young Consumer´s everyday lives have been affected by the crises on multiple levels – from job loss, and prefer listen digital music through the computer or Ipod,to buy music on vinyl.
To avoid the crises, Wah Wah records, have their own record label,promoting progressive and electronic European 70´s rock music,mainly.
On their vinyl catalogue,you could find many 70´s German electronic/experimental music and vinyl reissues of music from around the world.
"Wah Wah records likes to get quality vinyl reissues,of those interesting progressive rock records labels like Vertigo or Ohr records".
The original vinyls of mostly Wah Wah reissues,are very sough after collectors items with high prices value on record collector meeting fairs around the world,like every year take place in Utrecht,Holland.
During the music festivals (Sonar and Primavera Sound) and thanks to tourism than comes to visit Barcelona record sales get higher due to visit of youngest costumers, who buy Indie and 80´s pop music vinyls,and spend a good time in Wah Wah record shop,talking and listening music.
Visit a record shop is an unique experience than you couldn´t find buying records by internet.
In recent years we have a significant increase of vinyl sales, because the vinyl format are ideal for listening music, thanks to their beautiful art covers ,and analog sound than you couldn´t listen on CD.
Most CDs are mastered today with 6 to 8 dB or more digital compression, over and above any compression done in the original recording, just to make them loud, and the same loudness as every other current CD.
That´s the reason than many music collectors prefer to listen those analogic vinyl reissues to compress CDs.
Two decades of presenting some of the finest music ever minted.
One´s of the best five music record world shops.The best vinyl records in progressive,Canterbury,psychedelia and rock music.
Now,Wah Wah records is proud to offer to music followers around the world, high quality music vinyl reissues.
On this Catalogue you could find last Wah Wah 2014/2015 vinyl release.
There are essential recording from true innovators such as Popol Vuh,The Spoils of War,Ictus,Season,Hardy Kukuk ,and nextly releases like Via Lactea,Flute and Voice,Zweinstein,Urban Sax.
---
Visit http://www.wah-wahsupersonic.com/html/news.html for further information about current and upcoming releases.