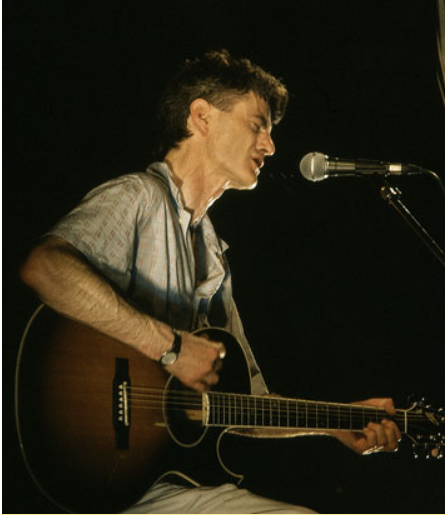 British pop star,Peter Hammill,ex-Van Der Graaf Generator,played in Barcelona,Sala Cibeles,on 1986.
Can´t tell the essential difference between the VDGG stuff and Hammill's solo stuff,maybe the progressive rock VDGG,were one´s of the pioners of their time.
I myself remember,when in my school times purchased VDGG-"Pawn Hearts",and King Crimson-"In the court",on a local record store,Gay & Company,the same people than brings the Rolling Stones,to gig in Barcelona on 1976.
Peter Hammill´s voice,describe sadness and anguish,and it was a memorable concert played alone with the acoustic guitar and piano.
Here,you could find some pop stars,talking about this great poet and musician,
VDGG-" did some music that was pretty far ahead of their time" (The Flaming Lips' Wayne Coyne)
"They were the very best, much darker than all the other bands of that era." (Phil Collins)
"I discovered him in 1973. I was smoking a lot of pot, hanging around in darkened rooms, listening to music. One day I heard his album Chameleon in the Shadow of the Night. I knew a bit about Van der Graaf Generator [Hammill's band], and that was it. It fitted in with what I was feeling ñ a bit out of my head, a bit depressed. I immediately wanted to collect his records" (Stephen Morris,Joy Division/New Order)
Bowie,"is asking his artist liaison manager to pick him up a few LPs at the record store before leaving for Switzerland that night.One of the albums is ìThe Quiet Zone / The Pleasure Domeî by Van der Graaf".
Rotten / Lydon ,"has long been a fan of Hammill / VdGG and in 1977 he was given ample air time on a now-famous Capital Radio broadcast where he brought in his fave records to play, and shocked the audience by playing Hammill, Can, Beefheart, and others that no one would have dreamed he liked".
Hammill played songs from some solo albums like,"Fools Made","The Quiet zone/The pleasure dome","In Camera","The Future Now","Patience".
Until that period in 1986,PH recorded about 24 albums.
Peter Hammill.Sala Cibeles,Barcelona 12 NOV. 1986
WAV 16-44.100,Calidad CD,DR9
01."My room"
02."Just good friends"
03."Vision" (Fool´s Mate),1971
04."Shell" (Skin),1986
05."Too many of my Yesterdays"
06."Time Heals"
07."The Comet,The Course,The Tail" (In Camera),1974
08."Time for a change"
09."Sign" (Sitting Targets)
10."Last frame" (The Quiet Zoe/The Pleasure dome)
11."Patient" (Patience),1983
12."The Future now" (The Future Now),1978
13."Losing faith in words"
14."Confidence"
15."Ophelia"
16."Sleep Now"
Peter Hammill.Sala Cibeles,Barcelona 1986
Live cassette tape recording,captured "On air",WAV 16 bits.
WAV 16 BITS audio format
Peter Hammill.Plaza de la Catedral,Barcelona 25-09-1988
Live cassette tape recording,captured "On air",WAV 16 bits.
My room
too many of my yesterdays
Vision
Just good friends
¿?
Sign
Time for a change
¿?
Patient
¿?
Time to burn
Mirror images
Stranger still
Some pleasantly strummed acoustic guitar,a little bit distorted strong vocal from Hammill
which sung in front of a few thousand people,during Barcelona,La Mercé,local festivity.
Peter Hammill.Plaza de la Catedral,Barcelona 1988