AVIADOR DRO
Grupo pionero de la movida de Madrid,con un estilo minimal y Synth-pop.
Discipulos de Residents,Throbbing Gristle o Devo,el Aviador Dro y sus Obreros Especializados,es un colectivo de actores,musicos e intelectuales,que se disfrazan con monos y trajes futuristas.
Creen en un mundo distópico de robots y futuro post-nuclear.
Del mismo colectivo,tambien son Esplendor Geometrico,grupo Industrial de culto.
Con teclados,sintetizadores y cajas de ritmo,prueban de emular a los Kraftwerk
con melodias de pop pegadizo como,"Selector de Frecuencias".
Mientras miraba por la tv el programa "La edad de Oro",llamó un amigo y cuenta que el próximo fin de semana tocaran El Aviador Dro en Zeleste,y que compre la entrada porque se van a agotar.
En este concierto,presentaron su primer lp,"Alas sobre el mundo".
Aviador Dro-En directo,Zeleste Barcelona,22-01-1983
Stereo Cassette,grabado "On air".WAV 16 BITS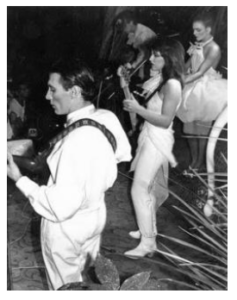 LINEA VIENESA
Otro grupo de tecno pop electronico,Linea Vienesa,naive,nostalgico y elegante,pasan del glamour de los Roxy Music al rock siniestro de Souxsie.
El LP,fué editado por el sello indie electrónico de Domestica records,con un gran artwork echo a mano por el diseñador Jordi Serrano,gracias a unas cintas originales demo de 1981.
Carlos Berlanga,fundador de Kaka de Luxe,es autor de los temas 'Cangrejos en la cocina' o 'Morir en primavera'.
La actuación fue en el Rock-Ola de Madrid en 1981,grabada del Diario Pop de Ordovas.
Linea Vienesa-Diario Pop,Ordovas,Radio 3
WAV 16 BITS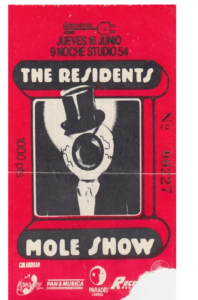 THE RESIDENTS
Los Residents editan el album "The Mole Show" acerca del apocalipsis,un desastre de proporciones bíblicas.
"Mark of the mole",nos habla de una raza primitiva "Los Moles",que viven en el subsuelo.
Una tormenta les hace abandonar sus agujeros,y se ven obligados a emigrar al mundo dominado por una raza superior de mutantes mecánicos "Los Chubs",que les quieren esclavizar.Al final acaban enfrentandose….
Los Residents actuan e interpretan "Mole Show" en Studio 54,la mayoría del público no comprendió este espectáculo.
Un álbum muy interesante y valido para prestar su atención.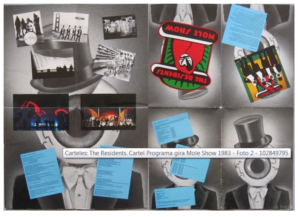 The Residents.En directo Studio 54,gira Mole Show Barcelona 16-06-1983
Stereo Cassette,grabado "On air".WAV 16 BITS