Fruits de Mer Records,is a music label in psychedelia,progressive rock,acid-folk,spacerock,Kosmische sound… style on vinyl.
Some of the highlights,releases during this year:
-Fuchsia-Fuchsia(1971)UK.Reissue(2018)Crustacean 86 2LPs.
The second album,comes from an acetate mono,and there are original versions of this great Acid-Folk Tony Durant musician.
-Crystal Jacqueline/The Honey Pot-We fill in forms and mow the lawns(2018)FISH25 lp
Great version of favourite Floyd,song:"Remember a day"
-The Nomen & The Blue Giant Zeta Puppies-I hear a New World(2018)Strange Fish 012
Remake of Joe Meek's 1960 outer-space concept album
The label also promote every summer a psychedelic music festival in Cardigan(Wales),with lot of new psychedelia bands in 60´s style-like:Pretty Things,July,The Action,Sandy Denny…
I would like recommend the forthcoming album,on FDM label,"The Three Seasons"a great compilation 3 LPs album.
Includes the most influential artists in the life of modern music,during the sixties.
Some tasters from the set, so how about The Electric Prunes' version of '7 and & is'
and Icarus Peel's new take on 'Beck's Bolero',or The Pretty Things – Loneliest Person,or LoveyDove – Bedazzled (originally by Drimble Wedge and the Vegetations : 1967),or Mark McDowell and Friends – Up The Wooden Hills To Bedfordshire (originally by The Small Faces : 1966).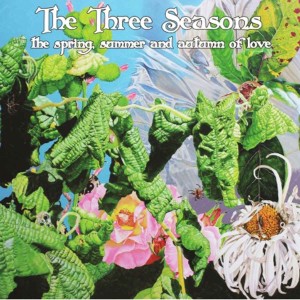 RELEASE INFO:
Label: Fruits de Mer Records
Format: 3LP, Album, Limited Edition, Triple Gatefold Sleeve, Colored Vinyl (catalog no. Crustacean 87)
Release Date: 8 October 2018