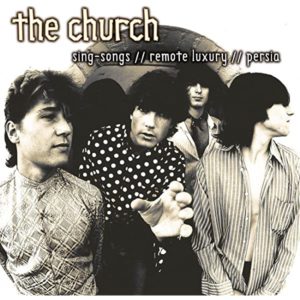 The Church,grup de New Wave Australiá,amb,Peter Koppes(gtr,Key),Marty Wilson-Piper(gtr.,veu),Steve Kilbey(Veu,baix,Key,)Richard Ploog(Bat.)."Of skins and hearts",va ser al primer LP,surt al 1981.
Als següents discos, "The blurred crusade","Seance","Remote Luxury".son la etapa més creativa,de estil Paisley sound,grans guitarras sicodélicas,i melodias pop,amb reminiscencias folk rock dels Byrds.
The Church – The Blurred Crusade(82)UK.Carrere Gatefold Wav 16-44
Gran álbum,recomenat escoltar de principi a fin,amb bons riffs de guitarras per Wilson-Piper i Kilbey.
Tracklist
A1 Almost With You          
A2 When You Were Mine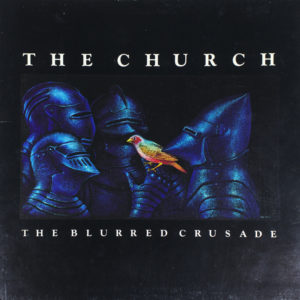 A3 Field Of Mars
A4 An Interlude
A5 Secret Corners
B1 Just For You
B2 A Fire Burns
B3 To Be In Your Eyes
B4 You Took
B5 Don't Look Back
The Church – The Blurred Crusade(82) 16-44 WAV,16 bits
The Church – Seance(83)New Zeland Parlophone Wav 16-44
Tracklist
A1 Fly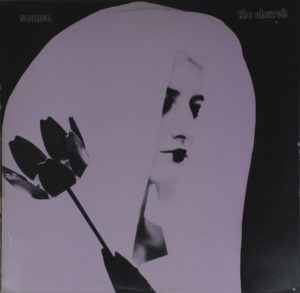 A2 One Day
A3 Electric
A4 It's No Reason
A5 Travel By Thought
B1 Disappear?
B2 Electric Lash
B3 Now I Wonder Why
B4 Dropping Names
B5 It Doesn't Change
A destacar als temas,amb la guitarra melódica a "Electric and it doesn´t change",i al space rock a "Travel by thought".
The Church – Seance(83) 16-44 WAV,16 bits
The Church – A Quick Smoke At Spot's (Archives 1986-1990) Australia Mushroom Wav 16-44
Un recopilatori de caras B,son una serie de cançons que van ser descartadas quan editaron als álbums.
Tracklist
A1 Texas Moon
A2 Perfect Child
A3 Much Too Much
A4 Take It Back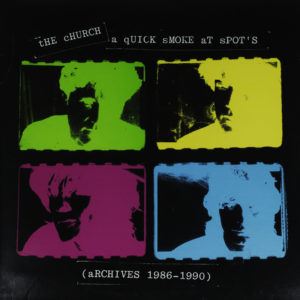 A5 Desert
A6 We Both Know Why You're Here
A7 Frozen And Distant
A8 Forgotten Reign
B1 Anna Miranda
B2 Hunter
B3 Dream
B4 Ride Into The Sunset
B5 You Got Off Light
B6 Nose Dive
B7 The Feast
B8 Afterlife
The Church – A Quick Smoke At Spot's (Archives 1986-1990)16-44 WAV,16 bits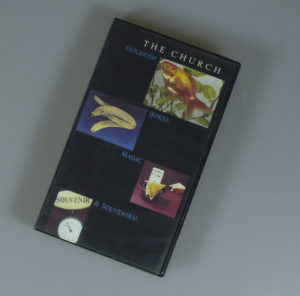 The Church -Goldfish (Jokes,Magic & Souvenirs)(90)VHS,PAL
Tracklist
1 Introduction: Metropolis
2 The Unguarded Moment
3 Bel-Air
4 Too Fast For You
5 Tear It All Away
6 Almost With You
7 A Different Man
8 Electric Lash
9 It's No Reason
10 Fly
11 Constant In Opal
12 Tantalized
13 Columbus
14 Under The Milky Way
15 Reptile
16 Metropolis
17 You're Still Beautiful
18 Ending: Metropolis
Credits
Bass   – Steve Kilbey
Drums -Jay Dee Daugherty (tracks: 15, 16),Richard Ploog (tracks: 1 to 14)
Guitar – Marty Willson-Piper,Peter Koppes
Vocals -Marty Willson-Piper,Peter Koppes,Steve Kilbey